Certified speed and agility coach / USA 2016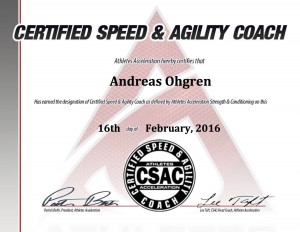 ---
Anatomi på riktigt!
I Januari 2016  var jag och min kollega i 3D-Funktion Seth Ronland i Phoenix och dissekerade med "father of fascia" Tom Myers för andra gången.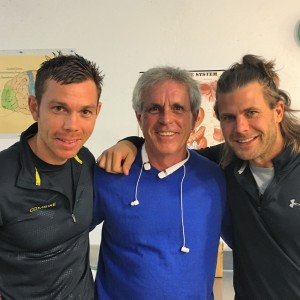 2015 var det en två dagars men i år dissekerade vi i fem dagar.
Varje dag kopplades även ihop med träning. Dom strukturer som vi studerade när vi dissikerade omsatte vi sedan i rörelser.  Otroligt lärorikt.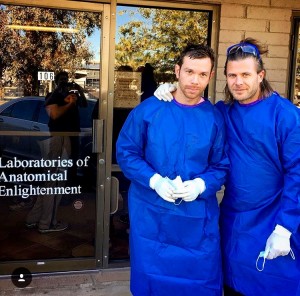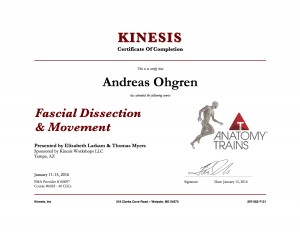 ---
Anatomi-utveckling
I januari 2015 gjorde jag min första dissektion. Tillsammans med bland annat  "father of fascia" Tom Mayers så fick jag under två dagar vara med om anatomi-utveckling på riktigt.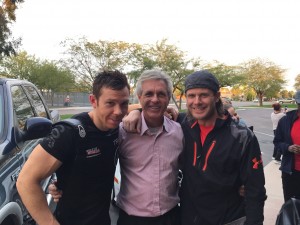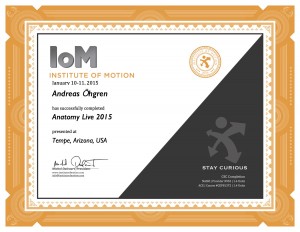 ---
Under 40 veckor 2015 utbildade jag mig vidare inom 3D-science. Det är en fantastiskt vidareutbildning från GIFT som jag avslutande i slutet av 2012. ( se nedan )
Här är lite mer info om vad PCM innebär:
PCM  Playcoachmate 2015
Award of achievement and dedication
1. Deeper Principle-Strategy-Technique Processes and Effective Teaching, Coaching, and Mentoring (Facilitated by Dr Gary Gray) Applied Functional Science® clearly is a journey . This particular thread allows you to get even deeper into Gary's mind while focusing on the practical side of AFS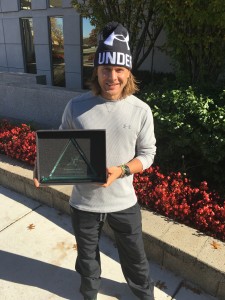 2. Powerful Teaching / Communication Strategies (Facilitated by Brad Gray) You can have the greatest ideas in the world, but if you don't know how to communicate them, they're worthless. Communication is of epic importance in everything we do – whether it is communicating with a client, patient, co-worker, staff, spouse, or family member. The better we are able to communicate, the more effective we become. This thread of PCM teaches you the Art of Communication. Great communicators are not born, they are taught. There is an art and science to the communication process, and this thread of PCM will help you understand just that. At the end of the program, you will have gained critical principles and strategies that will significantly help you not only in your professional life, but in your personal life as well.
3. Further Logic and Sequencing of Matrices / Techniques (Facilitated by Doug Gray) Matrices, of course, are three-dimensional movement groupings in which all three planes of motion are leveraged for a logic and/or purpose. This particular thread dives deeper into existing matrices with the mindset of tweaking to enhance function.   With movement as the heartbeat of Applied Functional Science®, this thread certainly empowers you to organize and develop your movement skills for your patients and clients.
4. Leveraging Matrices / Techniques for Assessments (Facilitated by Dr David Tiberio) Applied Functional Science™ stretches across the board of Prevention, Rehabilitation, and Performance. This thread enhances confidence while continuing to build competence in movements.
---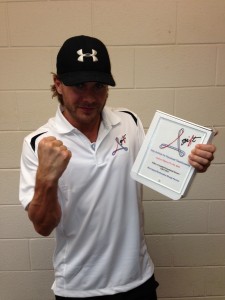 Under 2012 utbildade Andreas sig på The Gray Institute i USA, "Fellow of Applied Functional Science". Som är en utbildning i praktisk evidensbaserad behandling och rehabilitering av idrottsskador.
Andreas: "Baserat på 40 års forskning om kroppens funktion .. Magiskt .. 1200 timmar studier, över 700 föreläsningar online, totalt 15 dagar på plats i USA.
Över 50 tester och ett avslutande videotest på 20 min där du väljer en led i kroppen på en klient, går igenom klienten via tester, behandlar, testar igen och sen visar vilka övningar du kommer använda för att återställa funktion för att få ut max.
GIFT har förändrat mig för alltid och jag kommer förhoppningsvis kunna hjälpa människor att nå sina mål ännu bättre och ännu snabbare vare sig de vill bli bäst i världen på någon sport, bli smärtfria eller nå sina mål vare sig det är att orka ta hand om familjen bättre, klara Vasaloppet eller varför inte en Triathlon."
– Andreas passade även på att utbilda sig till "NG 360 NIKE Golf Performance Specialist", vilket han är först i Europa med 2012.
The Gray Institute och AFS
The Gray Institute is internationally acclaimed for its innovation, development, mastery, and delivery of Applied Functional Science. We are recruited to consult, analyze, assess, rehabilitate, restore, train, and condition individuals of all levels and abilities, including professional sports.
We are the foremost leader of functional prevention, rehabilitation, and performance enhancement in our industry. Our state-of-the-art production studio and video suite enables us to deliver the most up-to-date functional information to our global customers and partners.
Our internationally-renowned staff of presenters has more than three decades of experience in presenting our Chain Reaction Transformation and Live Function seminars to teach professionals from all areas of the medical and training industries.
The GIFT Program (10-month mentorship) provides a unique, comprehensive, and in-depth professional education experience through a blend of distance learning and live seminars where all aspects of Applied Functional Science are explored, explained, and applied.
AFS – Applied Functional Science is the convergence of Physical Sciences, Biological Sciences, and Behavioral Sciences that consists of the Principles-Strategies-Techniques process for functional assessment, training and conditioning, rehabilitation, and injury prevention that is practical for any and all individuals regardless of age or ability.
Applied Functional Science is based on scientific truths that serve as the foundation of the process. These principles, integrated with neuromusculoskeletal Chain Reaction™ biomechanics, lead to powerful strategies that guide the decision-making process.
Applied Functional Science strategies are employed to properly and successfully manage transformational environments, utilizing effective and efficient techniques for desired purposes.
---
NG 360 Nike golf performance specialist
The NG360 FPS program is available for qualified movement specialists and golf teaching professionals.
Qualified Movement Specialists include Physical Therapists, Athletic Trainers, Exercise Physiologists, Kinesiologists, Physicians, Chiropractors, Certified Personal Trainers and Certified Strength Coaches.
As a golf teaching professional, you must be a member of the Nike Golf Swoosh Advisory Staff. If you do not meet these qualifications, please contact your local Nike Golf sales representative for more information on how you can become a Nike Golf Swoosh Advisory Staff member. Nike Golf and the Gray Institute reserve the right to admit others upon special request and review.
Becoming a NG360 Golf Performance Specialist (GPS) powered by Gray Institute is a commitment and dedication towards the enhancement and enrichment of your own professional and personal development.
As a Golf Professional or Movement Professional, becoming a NG360 GPS builds on your existing skill sets by teaching you a functional and logical process of golf-specific principles, strategies and techniques. The continuous goal of the NG360 Functional Performance System (FPS) powered by Gray Institute is to increase your competency, confidence, and credibility in order to maximize your potential to enhance the abilities of others.
Becoming a NG360 GPS empowers you with an integrated online, onsite, and ongoing educational process. Your NG360 FPS experience begins with 21 hours of online video, self-paced educational modules. Your live, two-day professional seminar builds upon your newly acquired understandings with "hands-on" experiences, demonstrations, and an interactive verification certification process. Your NG360 GPS certification then provides you with the privileges to build upon your abilities and successes.
As a NG360 GPS, you are partnering with Nike Golf and Gray Institute to advance your professional development, differentiate yourself from others in your profession, and contribute to the recognition of Nike Golf as the inspirational and innovative leader in athletic golf.
With the NG360 Functional Performance System Powered by Gray Institute, along with your ongoing NG360 GPS certification privileges, you will become more significant to the golfer who seeks your expertise and fulfill the mission of inspiring and enabling golfers to become better.
---
Övrig utbildning
– Functional soft tissue transformation ( lower extremity & spine complex )  Structural Remodeling  by Lenny Parracino and Dr Vince Guagliano USA 2014
– CAFS Certified in Applied Functional Sience USA 2013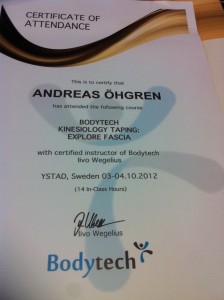 – Explore fascia Bodytech Ystad 2012

– HMS Human Movenment Specialist USA 2011
Gary Gray
Gray Institute:
Över 60 stycken certifierande onlineutbildningar från Gray Institute med Gary Gray och David Tibero.
En mängd specialutbildningar under åren:
Certifierad funktionell anatomi ( Core ) – USA
Certifierad flexibility training ( intelligent stretching) – USA
Certifierad Avancerad korrectiv/ funktionell träning Fitness education – Halmstad
Diplomerad Helhetscoach Din Coach – Stockholm
Dip Mental Coach Elikoeduacation – Stockholm
Paul Chek Institute:
Scientific shoulder training

Scientific back training

Dynamic medicine ball training

Swissball training for athletes

Advanced Swissball training for rehabilitation
Massageutbildad privat – Stockholm
Utbildad till Personlig tränare i N.Y USA på Duomo gym av Rich Baretta.
Andreas har över 20 års erfarenhet av träning på elitnivå.
Egenstudier
Andreas har också massor med kunskap från litteratur. han läser, studerar minst en timme om dagen för att både repetera gammal kunskap och lära sig ny.
Andreas är också med och observerar vid operationer som Tre kronors läkare ( Sveriges hockey landslag ) Björn Waldebäck kommer genomföra, med fokus på idrottsskadador för att bättre få en förståelse om hur kroppen fungerar och kunna rehabilitera bättre.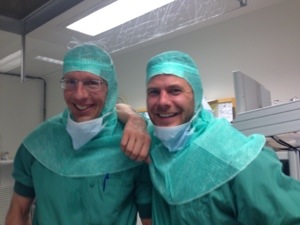 Andreas är också med i Price-Pottenger Foundation som jobbar för bättre miljö, renare vatten och bättre kost. Läs mer på www.pprf.urg
Maila gärna till Andreas om du vill ha tips på litteratur/ utbildningar mm.